[ad_1]

By Scooter MacMillan, Editor
Baseball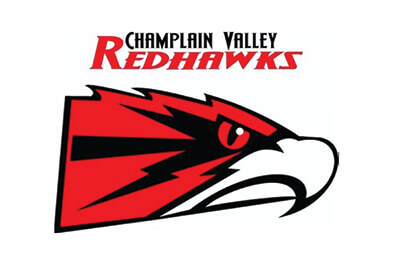 CVU 7, Mount Mansfield 0
On Monday, May 2, two Champlain Valley pitchers — Braedon Jones and Jared Anderson — teamed up to pitch a no hitter against Mount Mansfield.
Jones went five innings, notching 13 strikeouts against one walk. Anderson went two innings with four strikeouts and two walks.
Jones contributed to the cause at the plate as well as the mound, going 2 for 3 with two doubles and a walk.
CVU 1, Essex 0
CVU prevailed in a one-run, pitching duel at Essex on May 3.
In the seventh, Lewis Kerest knocked in the only run the Redhawks would need with a sacrifice fly.
Ollie Pudvar pitched the seven innings, tossing 18 strikeouts against two walks, while only giving up one hit.
CVU 6, Burr and Burton 0
The Redhawks broke out of a scoreless tilt against Burr and Burton on Saturday, May 7, with all six runs plated in the sixth inning.
Ryan Canty pitched the whole game, giving up four hits, three walks and striking out 10.
CVU 6, Burlington 2
The Redhawks were less than hospitable to the Burlington Seahorses on Tuesday, May 10, handing the visitors a 6-2 loss.
Braedon Jones was the winning pitcher, staying on the mound for six innings yielding two hits and a run while striking out five.
Canty, Kerest, Robbie Fragola, Travis Stroh and Asa Roberts each had an RBI.
Softball
Mount Mansfield 6, CVU 5
Although it was a tightly contested game, in the end CVU allowed Mount Mansfield to pick up its first win of the season on May 2, falling 6-5.
Sophia Stevens went 2 for 4 at the plate, hitting a double and knocking in two RBIs.
Essex 15, CVU 2
CVU took a big loss in a game at home against Essex, falling 15-2 on May 4.
Trinity Nye was responsible for the Redhawks' lone scoring knocking in two RBIs.
Essex scored eight runs in the fourth inning.
CVU 19, Burlington 6
The Redhawks recovered from their big loss against Essex, visiting Burlington and handing a similar 13-run loss to the Seahorses on May 10.
The game ended after five innings because of the mercy rule.
Juliette Chant took the win, going for all five innings and taking six strikeouts and giving up two walks.
Boys lacrosse
Middlebury Union 9, CVU 8 (2OT)
Champlain Valley fell to Middlebury on May 2 in an exciting two-overtime match.
Colin Zouck, Nolan Shea and Peter Gilliam led the Redhawks' offense with each scoring two goals. Matias Williams added another.
Goalie Jake Bowen had 12 saves.
Coach Tom Garvey thought the loss might prove beneficial for his team as a learning experience.
"Middlebury played a great game and never gave up, coming back from an 8-5 deficit," Garvey said.
CVU 17, Hanover (NH) 5
In what coach Garvey described a "full-team effort," CVU handed Hanover of New Hampshire a 17-5 shellacking on Saturday, May 7.
Gilliam led the way in knocking the ball into the net, tagging the hosts for five scores and two assists.
Williams was just behind with four goals and Zouck notched two.
Shea, Turner Elliott, Max Destitio, Connor Malanery, Max Brumsted and Isaiah Atherton rounded out the Redhawks' balance scoring with a goal each.
CVU 11, Essex 7
Friday, May 13, proved lucky for the Redhawks with the boys lacrosse team pulling out a 11-7 win at Essex.
CVU scored three goals to Essex's one in the last quarter.
Williams led the scoring with four goals. Elliot had three. Gilliam added two goals and an assist. Zouck had two goals
Bowen had 22 saves in goal.
Boys tennis
Stowe 4, CVU 3
The Redhawks fell to Stowe 4-3 in boys tennis action on May 3.
At singles, Charlie Mjaanes, (6-4, 5-7, 10-4) and Aiden Greer (6-4, 7-5) took their matches for CVU. John Bingle/Jacob Graham (6-1, 2-6, 10-7) pulled out a close win at doubles.
Girls tennis
CVU 7, Rice 0
CVU visited Rice on May 10 to deliver a 7-0 shutout in girls tennis.
Lindsay Beer (6-1, 6-0), Erin Fina (6-0, 6-0), Tabitha Bastress (6-2, 6-2), Cassie Bastress (6-0, 6-0) and Sage Peterson (6-0, 6-1) took their singles matches for the Redhawks.
Isa Trello/Sage Kehr (6-1, 1-6, 10-3) and Ella Lisle/Kennedy Desaulets (6-1, 6-2) took their doubles wins.


[ad_2]

Source link